Petscop: 3D Fan Recreation
A downloadable game for Windows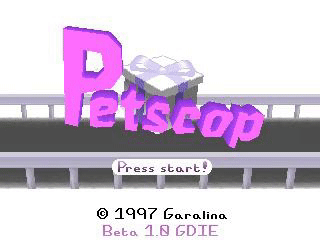 This is a recreation of Petscop an online webseries which is based on a PS1 game. Sadly, Petscop is unplayable. That is why a group of people and I are recreating Petscop. Currently, the game is in beta. During this stage there will be no development on the story. We will be mainly working on key features such as animations, gameplay elements, menus, etc.

PETSCOP 3D is now open source: https://github.com/BubbleDerp/Petscop3D-Source
Join our Discord server for frequent updates on game development!
Discord Temporarily removed | Youtube | All Builds

Keyboard Controls:
X     = [Z]
O     = [D]
TRI   = [X]
SQU   = [S]
START = [RETURN], [ESC]
SEL   = [SHIFT]
UP    = [↑]
DOWN  = [↓]
LEFT  = [→]
RIGHT = [←]
L1    = [W]
L2    = [E]
R1    = [R]
R2    = [T]
Window Size Controls:
Scale 1 = [1]
Scale 2 = [2]
Scale 3 = [2]
Windowed Fullscreen = [4]
Full screen = [5]
NTSC toggle = [6]
Keyboard to controller toggle = [7]

Developers:
BubbleDerp, Wirelex, red, ZeroDragon

Modelers:
Kranas, red, uhhh

Lead Artist:
Rotten Venen

Sound Technicians:
ChocolateJake, ugng

Sprite Artists:
CartoonWarp, ChocolateJake, Christablook, Finitus, Free TV Warlord, xewz, Natsuki, Ness, Noogai223, pissmastermind, SlamGrene, TheNewOrchestra, TheNinjaKatie, TS|rootLM, ugng
Beta Testers:
Abbey, Cannedawesomeness, charlie, Ethan, marvin, MaxMouse, Orlando2303, Basebin, Sleepy Deino, The World Over Heaven, Eskimo
Install instructions
Windows only for now. Download and double click.